BRAZILIAN WAXING SPECIALIST
At Waxing and Skincare by Celeste, we specialize in Brazilian waxing. Our spa in El Cajon has a unique way of doing our intimate waxing services. Our specialists use a combination of 100% organic bees hard wax, eucalyptus oil infused soft wax, and our popular made by us, 100% natural sugar wax (sugar paste) to perform our style of Brazilian waxing in El Cajon. With our experience and feedback from our clients, we have narrowed down which types of wax are best suited for each specific part of the body. Taking into account pain factor and efficiency, we do our waxing a little different from other spas. There is no such thing as painless waxing, but the pain can be minimized with the proper technique from our waxing experts and also using the right kind of wax. Our sugar paste is what helps our clients minimize the pain. We don't use imported wax and believe in buying local, supporting local business, purchasing from U.S. based business, and we only use 100% made in the USA products! Our sugar paste is 100% natural and completely safe for any type of skin, especially for sensitive skin. Intimate waxing is more and more popular each year and our spa is dedicated to allowing everyone to try it at least once.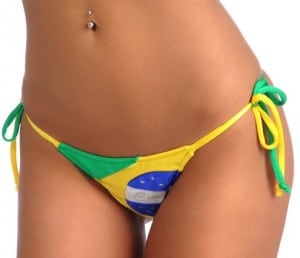 What is a Brazilian Wax? 
There are many clients who call or visit us for waxing services and many times they don't know exactly what they are asking for. This intimate hair removal service should not be confused with a bikini wax.  This type of service removes all hair in the pubic area all the way back to your anus. Complete hair removal just like you came into the world. This procedure has many types all having different names such as full bush, Hollywood, kitty, European, playboy , full, sphinx wax, California or "landing strip" versions. Are all these names confusing yet? The different names can be very confusing. When you visit us simply tell us what you want to be removed and what you want to keep. When you are finished, you can give your service its own custom name!
HOW TO PREPARE FOR A BRAZILIAN WAX
 What do to before your first Brazilian wax experience
If you really want to see a smooth, clean pubic region, then there is no better option than the full Brazilian wax. Introduced in the late 80's, it's become the "go to" solution for women everywhere who want to get rid of unwanted hair on the front, back, and areas in between. If you have recently scheduled your first appointment, then you might be a little nervous. Here are some things you can do to ensure you are prepared for what is to come.
Preparing Your Skin and Hair
In order to reduce pain, there are two important things that need to be done. First, you must exfoliate the skin when coming in. This will help reduce the chance of pain and also ingrown hairs. Secondly, having long hair will be more painful. The perfect hair length should be between 4-6 weeks long. We DO NOT trim hair and we simply wax regardless or hair length. The only time we will not wax is if the hair is too short. We recommend having at the minimum of 3 weeks of hair growth when coming to our salon. If your hair is too short, you will not get the results you want and will also be more painful. We recommend you come in every 4-6 weeks for optimum results.
How To Reduce Pain
Most people are worried about the pain that comes from hair removal. There is no denying that the first time will hurt more than any other. Your following sessions will hurt less and less with time. It's always a good idea to take some form of pain medication 1 hour before your appointment.
Prepare Mentally
One of the most important things you can do before your first Brazilian waxing is to prepare yourself mentally. This particular wax involves removing all hair in the pubic region, anal region, and buttocks. We understand it can feel a little uncomfortable. We are professionals so we make sure we provide some coverage to make you feel comfortable.
Cleanliness
Many people choose to shower just before they go in for their appointment. It's not mandatory, but it makes some people feel more comfortable. Can you wax during your period? Yes, and we recommend being clean when you come to see us. We do advice not to come in during heavy days. We do provide baby wipes for anyone who needs them also. When in doubt give us a call. The golden rule is always cleanliness.
Aftercare
How you care for yourself afterward is just as important as what you do before hand. We recommend avoiding sexual intercourse, sun, exposure, sauna, hot tubs, swimming pools, beaches, lakes, rivers and to do with water. for 48 hours. This might be difficult with your new, smooth body, but friction, sweat, and bacteria can lead to irritation, discomfort, and infection and we suggest to follow our recommendations. If you are planning on going on vacation, we recommend NOT to get waxed the day before leaving just to make sure you have not reaction. This is mainly for a first time client.